Accurate, Fast, Simple
Checking employee visa conditions
When onboarding new starters or setting up the foundU platform – every employee uploads their personal data though the employee self-serve app. This saves admin time and improves accuracy.
As employees complete their right to work information through their onboarding process, you'll be able to run a visa check from your foundU platform through the inbuilt integration with the Department of Home Affairs (Visa Entitlement Verification Online known as VEVO).
Along with confirmation of a valid visa, you will also see details about the visa. The number of hours someone can work or the expiration date for example. Once you trigger the first visa check, you can automate future checks to run every few weeks. There are no charges or limits.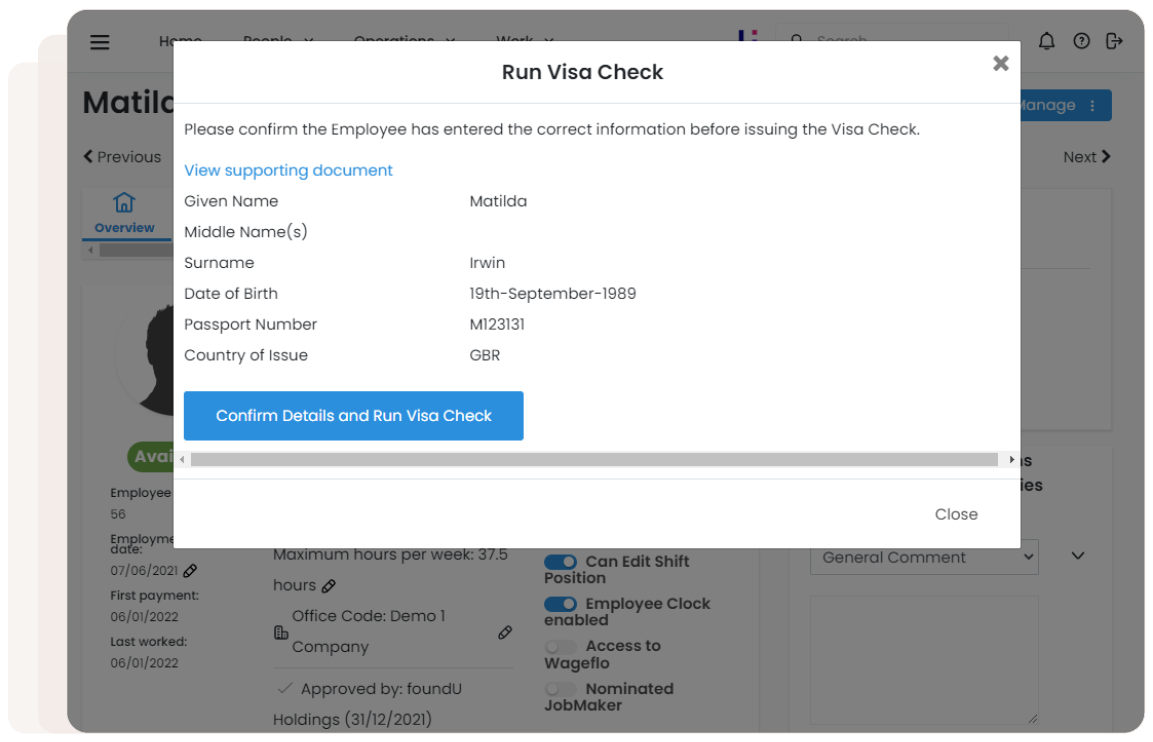 Maintaining visa conditions
Creating shifts accurately
Information about every employee's right to work and their visa conditions empower your operations. When scheduling or rostering staff for shifts you can see exactly who can and can't be booked. Only a single platform that uses one source of data can supply instant information for your team to better manage your workforce.
Configure the platform to alert your team about an employee's their visa condition when scheduling them for work. Use real shift worked data instead of relying on 'scheduled' hours to accurately see an employee's worked hours at any point in the week. Make informed decisions by viewing a running total of approved (worked) hours.
For example, if a student is only permitted to work 20 hours in each week, the data held in their individual profile is automatically checked when they are scheduled for a shift. Approved shifts (those worked and approved) capture the exact time and calculate how many remaining hours the employee could work that week.
You can also set 'effective' dates. For example, if they are only permitted to work for 6 months the platform will automatically prevent them from accidently being booked for a shift once 6 months has passed.
The platform can be configured to suit your specific requirements.
Our single platform does not rely on integrations between systems. Intelligent calculations run in the background helping your entire team.
Unlimited, free VEVO checks
Regular, automated visa checks
The onus is on employers to ensure their workers have a right to work and work only the permitted hours. Employees can also keep their information updated through the app. Errors with a passport number for example will be flagged. Employees can quickly amend any mistakes directly before another visa check is run.
Automated visa checks significantly reduce admin time.
Employees in breach of a visa condition outside the control of their employer are quickly captured. If an employee's visa is revoked, you will know. If a visa's status, type or class or conditions change – you will know.
Helpful reports and notifications support your team. Stay on top of compliance. Get alerts for employees whose visas or passports are about to expire. Automate email or SMS communications to them, reminding them to upload their latest documents.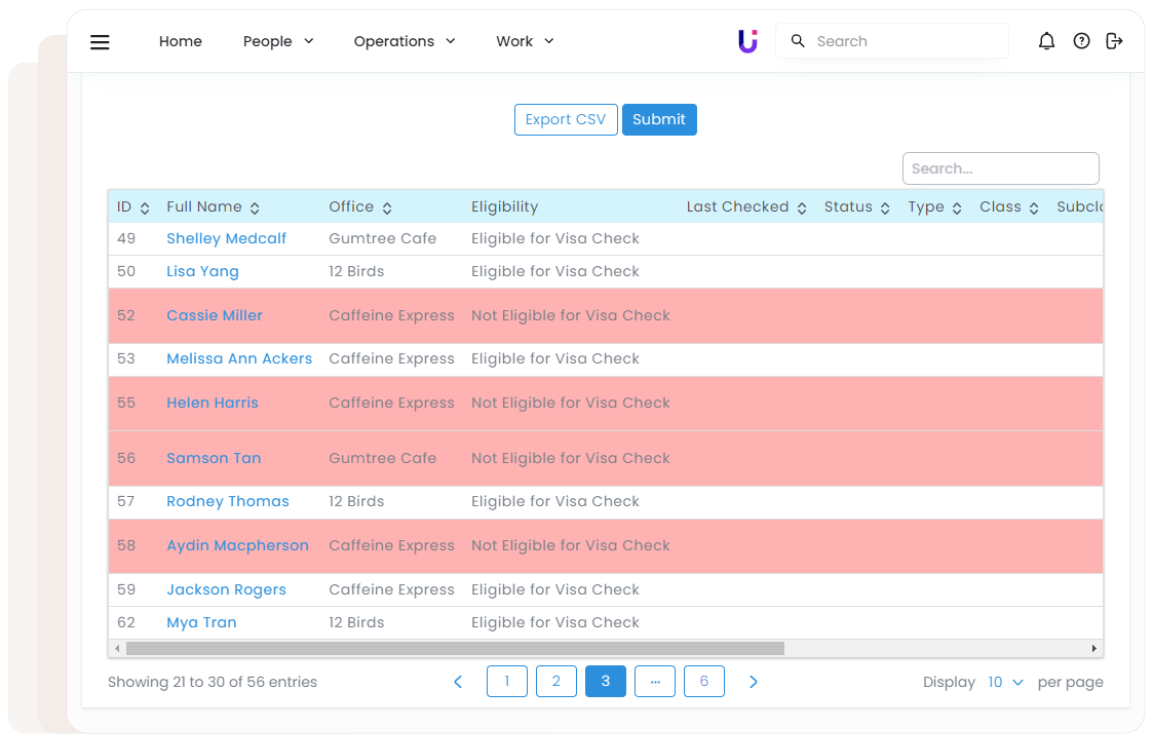 Customer Stories
See how some of our customers use foundU to accelerate the success of their business.