Report on every aspect of your workforce
Generate reports on your workforce at each stage of their journey, from onboarding to scheduling, payroll and more.
The following are onboarding reports that you can generate with the foundU platform:
Attendance & Performance

Employee Onboarding Records

JobMaker Eligibility

Terms & Conditions

Employee Document Report

Employee Records

Shift Offers Report

Employee Incident Reports

Expiring Documents

Terminations
The following are scheduling reports that you can generate with the foundU platform:
Labour Management Report
Roster Breakdown Report
Clock Log
Roster (CSV Export)
New Starter Roster
Roster Summary
New Work Commencing
Roster Timesheet Variance
People In Work
Below are payroll reports that you can generate with the foundU platform:
Standard and Advanced Payroll
JobKeeper Payments
Allowances Paid
Pay Item and Allowance Schedule
Rate Label
STP Line Item Report
Unprocessed Deductions
Weekly Pay
Employment Termination Payment (ETP) Report
Position Changes Report
Reimbursements Report
Single Touch Payroll (STP) Year To Date
Wageflo Access Report
Line Item Breakdown
Processed Deductions
Single Touch Payroll Batch Report
SuperStream
Wageflo Transaction Report
Labour Management Report
Roster Breakdown Report
Payroll Billing (Invoice Test)
Awaiting Tax File Numbers
General Journal Export (Basic)
Management Accounts List
Allowance Accruals
Leave Paid
Superannuation Report
Workcover Report
Leave Liability
Payroll Tax
Time Off In Lieu (TOIL)
Leave Movement
Rostered Days Off Accrual
Workcover Payments
The following are other reports that you can create with the foundU platform:
Admin Activity
Prospects Report (CRM)
Follow-up Documents
Manager Activity
Report accurately on your finances
Generate comprehensive and accurate reports on your payroll activity, staff timesheets, accounting journals, leave accruals, liabilities and more with just a few clicks.
Report on staff requests for early access to earned wages

See all employee allowances, reimbursements and accruals with the Allowances Paid, Reimbursements and the Allowance Accruals reports

Generate accurate payroll data in various accounts buckets

View Single Touch Payroll data and get a detailed view per employee via the STP Line Item report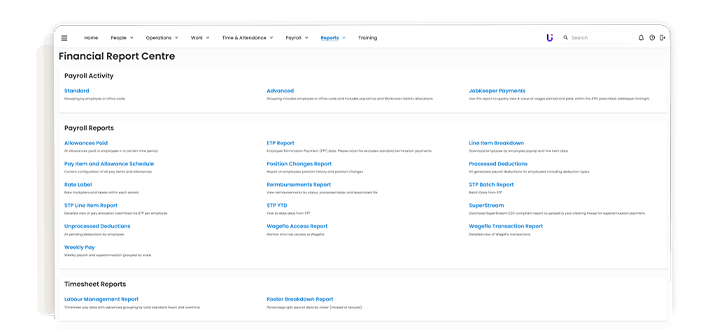 Get a bird's eye view of your workforce
Uncover valuable data about your workforce, including employee time and attendance, onboarding records, expiring documents and qualifications, and staff terminations - all pulled from a single system with single employee records.
Generate clock-in/out records from the foundU Clock App

Report on all expiring documents and qualifications stored against employee profiles

Check the status of your employees' rights to work and their ability to responsibly serve alcohol with RSA and VISA Checklist reports

Compare rostered shift times with approved shifts to identify variances with the Timesheet Variance report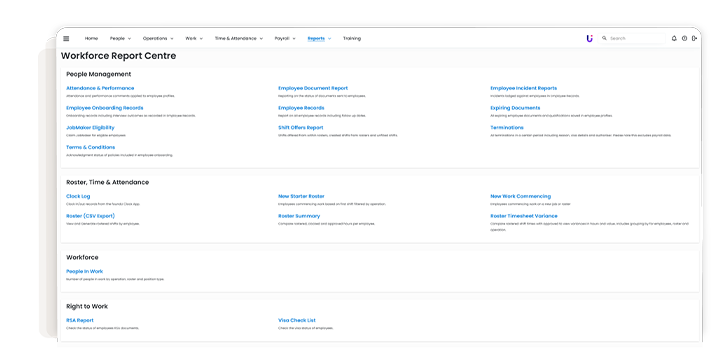 Track and report on your business
Know exactly where your business stands with accurate tracking and reporting on admins, operations and more.
Track admin user activity for operations via the Admin Activity report

View CRM notes for prospective operations - including activity count and conversion statistics with the Prospects report

Report on your required employee and operation follow-ups in the next 60 days with the Follow-Up Documents report

Track comments for operations or employees by type, manager or office code with the Manager Activity report