Never worry about payroll again
Award interpretation can be difficult. That's where foundU's native payroll calculator saves the day. The most agile engine in the industry, it can correctly interpret any modern awards, enterprise bargaining agreements (EBAs) and pay rules you require.

Intuitive and fully customisable, it can handle any pay calculation to ensure your staff get paid the right penalty rates, overtime, and allowances, ensuring your business is compliant every step of the way.
Manage your awards and agreements with ease
Set up and manage your modern awards and agreements to ensure an always accurate, always compliant payroll.
Create and manage different awards, levels and classifications for every staff member

Set shift rules and ensure that any allowances and penalty rates are applied correctly

Pay staff under multiple awards for a single shift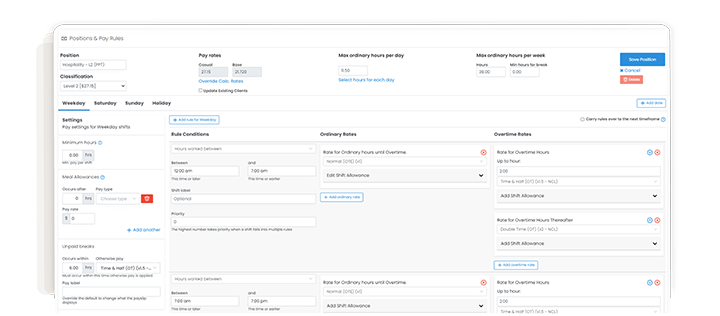 Test your awards and agreements for accuracy
Never worry about a payroll audit again. Ensure your employees are being paid the correct rate according to their modern award or enterprise bargaining agreement.
Run an award interpretation test for a complete breakdown of an employee's pay, including ordinary pay, overtime, leave, unpaid break times and allowance details

Create mock timesheet scenarios that best apply to your award rules and test to see that everything fires correctly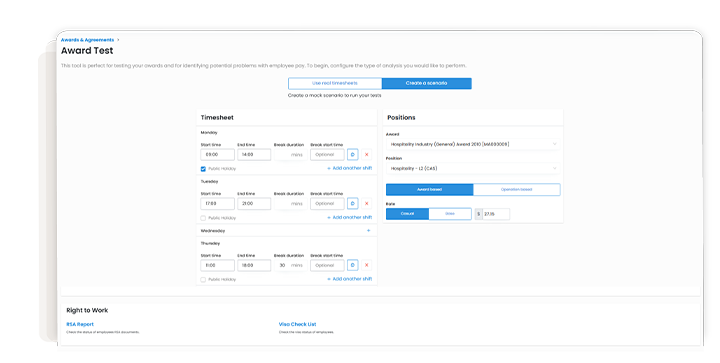 Grow your awards with your business
Grow your workforce and your business with an agile, flexible platform designed to change and evolve with you.
Add additional awards and agreements into the platform as your workforce and business grows

Make changes to your awards and agreements as needed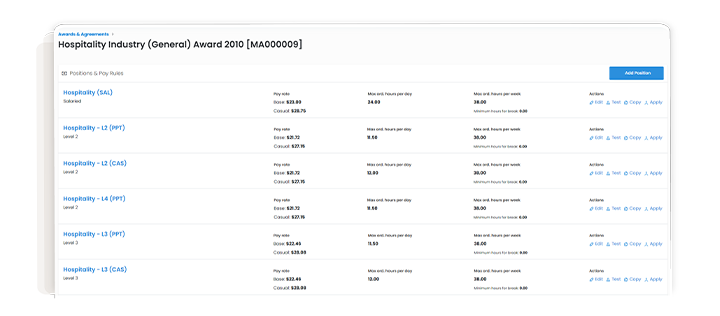 Get started with award interpretation
When implementing the foundU platform, our team will work with you to ensure your awards and agreements are set up the way you need them.
Depending on your package, our implementation team will also help you perform a parallel pay run to ensure your data, processes and pay rules are firing.
Frequently Asked Questions
What is award interpretation?
Award interpretation is the process of determining the minimum legal amount you have to pay your staff and the working conditions you must provide, according to Fair Work legislation.
Modern awards are legal documents that set out the minimum terms and conditions required for employment in certain industries. Operating at both an industry and occupation level, they outline employee entitlements like pay rates, hours of work, penalty rates, breaks, schedules and overtime. There are over 100 modern awards that cover most working Australians.
What modern awards can the foundU platform interpret?
The foundU platform is capable of interpreting any modern awards and enterprise bargaining agreement within any industry in Australia.
The following are some of the most common awards applicable to foundU customers:
Need extra advice on award interpretation? We offer foundU customers advice from qualified solicitors, senior human resources and industrial relations professionals through our workplace relations support service.